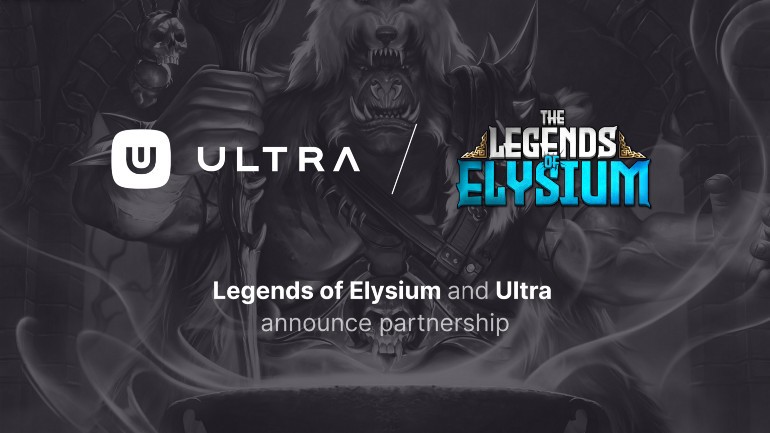 Legends of Elysium partners with entertainment platform providing a variety of games, Ultra
We're excited to announce our most recent partnership with Legends of Elysium, a fantasy play-and-earn strategic card game using EVM blockchain technology, which will be available on Ultra Games! In this free-to-play game, players can choose to either compete with each other or explore in a single-player adventure to develop their skills and earn rewards.
Battle for Elysium on Ultra Games
Set in Elysium, a realm where humans, dark elves, and orcs once lived in peace, players can build their deck of fantastic creatures and lead them into battle. The game will feature strategic elements to allow players to compete against each other on recurring events to win prizes while participating in an economy where completing quests will earn them rewards.
Our partnership with Legends of Elysium covers the distribution and promotion of the strategic title on Ultra Games. The Legends of Elysium team will work closely with Ultra to facilitate fair and innovative gaming experiences, as well as access to Ultra's tournament platform and community of content creators and brands.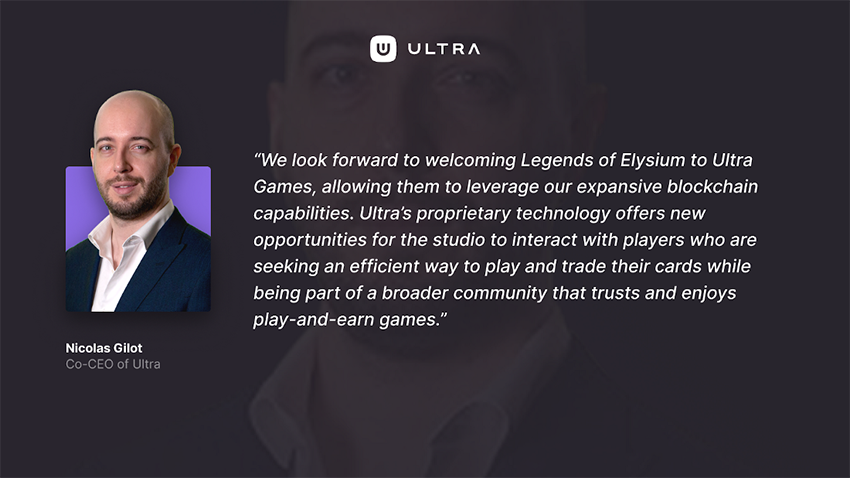 "We look forward to welcoming Legends of Elysium to Ultra Games, allowing them to leverage our expansive blockchain capabilities. Ultra's proprietary technology offers new opportunities for the studio to interact with players who are seeking an efficient way to play and trade their cards while being part of a broader community that trusts and enjoys play-and-earn games." – Nicolas Gilot, Co-CEO of Ultra
Ultra is creating the future of gaming, one app at a time. Ultra Games, our games distribution platform, uses Ultra's NFT standard to allow players to truly own their gaming experiences. Our efficient blockchain technology is highly scalable and fair to the environment. Inside the Ultraverse, players can watch streams, interact with content creators, participate in special tournaments, and share their love for video games!
Additionally, Ultra allows players to discover, buy, play, and sell digital games and items as Uniqs — our take on NFTs. Uniqs are powered by our energy-efficient NFT standard, which completely eliminates gas fees and allows for scalable transactions. Ultra users will be able to find and trade Ultra-powered Legends of Elysium NFTs on the Uniq Marketplace's secondary market.
The Legends of Elysium game board.
Legends of Elysium's in-game economy and advanced algorithms will allow players to fight for and earn rewards based on activity, level, and skills. Players have three distinct types of cards to choose from: units that can be deployed on the game board, spells that can be cast during battles, and items that heroes equip. Players can collect and trade cards to build the strongest deck possible!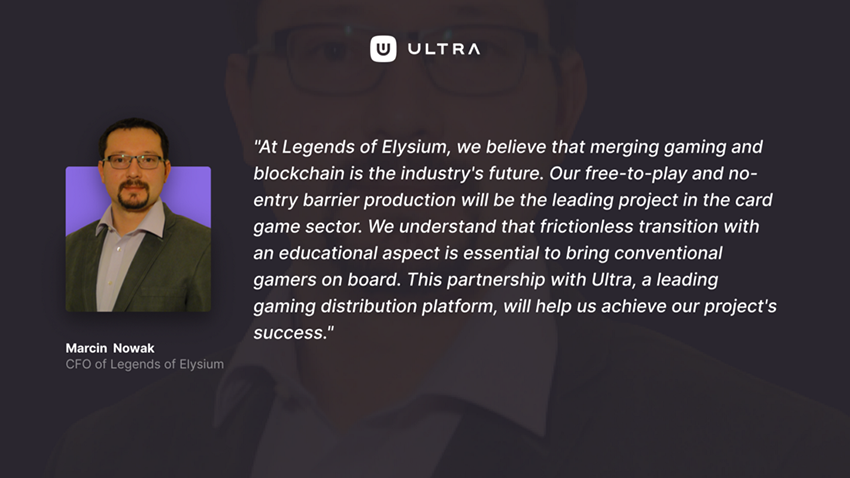 "At Legends of Elysium, we believe that merging gaming and blockchain is the industry's future. Our free-to-play and no-entry barrier production will be the leading project in the card game sector. We understand that frictionless transition with an educational aspect is essential to bring conventional gamers on board. This partnership with Ultra, a leading gaming distribution platform, will help us achieve our project's success." – Marcin Nowak, CFO of Legends of Elysium
We spoke more about our partnership with Marcin in the latest episode of Ultra Chill, check it out!
What's in Legends of Elysium for Ultra players
Strategy in Legends of Elysium unlocks endless possibilities for players. Their strategies are defined by factors such as their hero's race, class, and abilities — the board where the match takes place and the cards in their custom decks also affect the gameplay. After winning a battle, players will earn experience, which can be used to upgrade their heroes and earn more rewards!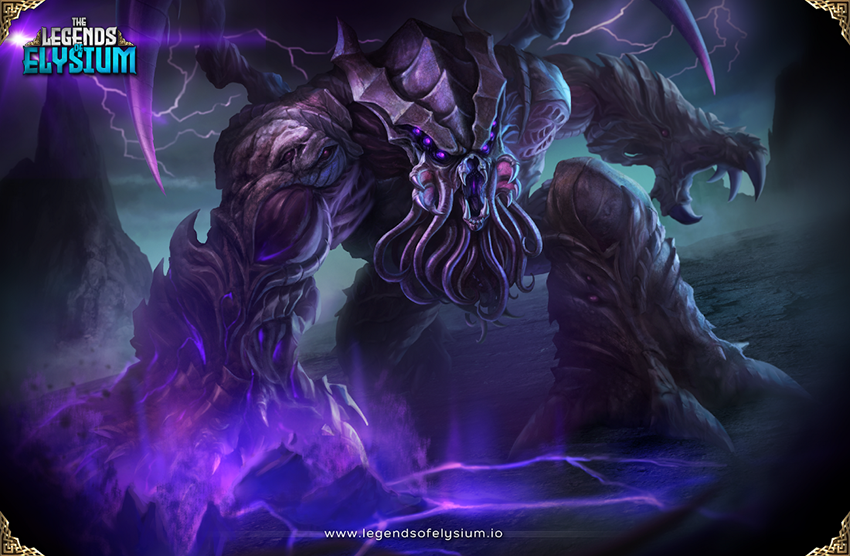 A creature in Legends of Elysium.
Legends of Elysium will feature several modes for players to choose from:
League: A ranked match where players get points for winning battles, which can be used to advance league levels and earn rewards from a prize pool.
Adventure: A single-player mode where players can explore and prepare themselves for multiplayer battles. They can get new NFT cards, develop fighting skills, and purchase unique cards to improve their chances of winning.
Tournaments: A competitive game mode during eSports events where players must purchase an entry ticket. At the end of the tournament, the top players will win prizes!
Friendly duel: Not everything has to do with being victorious! Players can also challenge their friends for quick battles and put their skills to the test.
Battlefield: This type of competition lets players participate in battles using decks built through a draft method for a chance to win rewards.
As part of the partnership between Ultra and Legends of Elysium, players referred from the Ultra community will have the chance to receive a voucher for a Standard Card Pack after winning their first battle on Ultra. The final amount of Card Packs will be announced before the game is available on Ultra. We'll share more details soon!
About Ultra
Ultra is the first entertainment platform providing all key games industry services under a single roof, accessible through a single login.
Built around our PC games distribution store, Ultra Games, our platform will provide access to countless centralized and decentralized services: Discover, buy, play and sell your games and in-game items, watch live-streaming feeds, interact with your favorite influencers, participate in contests, compete in tournaments, and much more.
Ultra has been built to provide endless value for players, a fair playing ground for developers, and a whole new world of opportunities for the games industry.
For more information, visit ultra.io and onultra.io and follow along on Twitter, YouTube, Telegram, and Discord.
About Legends of Elysium
Legends of Elysium is a fantasy play-and-earn card game enhanced with strategic elements. The team aims to bring fun to web3 gaming and an opportunity to monetize their players' time. They are building a solid and engaged community around blockchain gaming and the play-and-earn ecosystem to meet the growing needs of gamers worldwide.
They seek to become a bridge between traditional gaming and blockchain and take eSports to the next level by bringing a AAA quality game to the blockchain. Also, they aim to enable true ownership of in-game assets and become a guild-ready environment.
The Legends of Elysium team puts a lot of emphasis on designing a treasury vault that will benefit all players in the game ecosystem. Their goal is to build a thriving game ecosystem that gives players a perfect combination of challenging entertainment with earning opportunities.
Ultra.io social channels: