The Emergence of Digital Trading Card Games in the Play-to-Earn Sector
The Play-to-Earn (P2E) sector is experiencing rapid growth, with a staggering 2000% increase within a year. This sector, now valued at $4 billion, is projected to reach a market cap of $65 billion. Among the leading coins in this sector are Axie Infinity (AXS), The Sandbox (SAND), and Pomerdoge (POMD). These platforms have integrated the concept of digital trading card games, allowing players to collect, breed, and trade digital assets. For instance, the blockchain-based game CryptoKitties allows players to collect, breed, and trade digital cats, which quickly gained popularity due to the potential for significant earnings.
The Potential Dominance of Axie Infinity, The Sandbox, and Pomerdoge
Axie Infinity, one of the first entrants into the P2E sector, became a popular non-fungible token-based online video game after its launch in 2018. However, after suffering a significant hack in March 2022, the game's profitability and user base have drastically reduced, and the AXS token has lost more than 96% of its value. On the other hand, The Sandbox has enjoyed massive success with its virtual world, known as The Sandbox metaverse, becoming one of the largest in the blockchain space. Despite a decline in metaverse interest, the popularity of The Sandbox will keep the P2E ecosystem relevant for a long time. Lastly, Pomerdoge is seen as a potential major player in the P2E sector due to its unique combination of gaming and a global community where players can engage with each other.
Legends of Elysium: A New Era of Gaming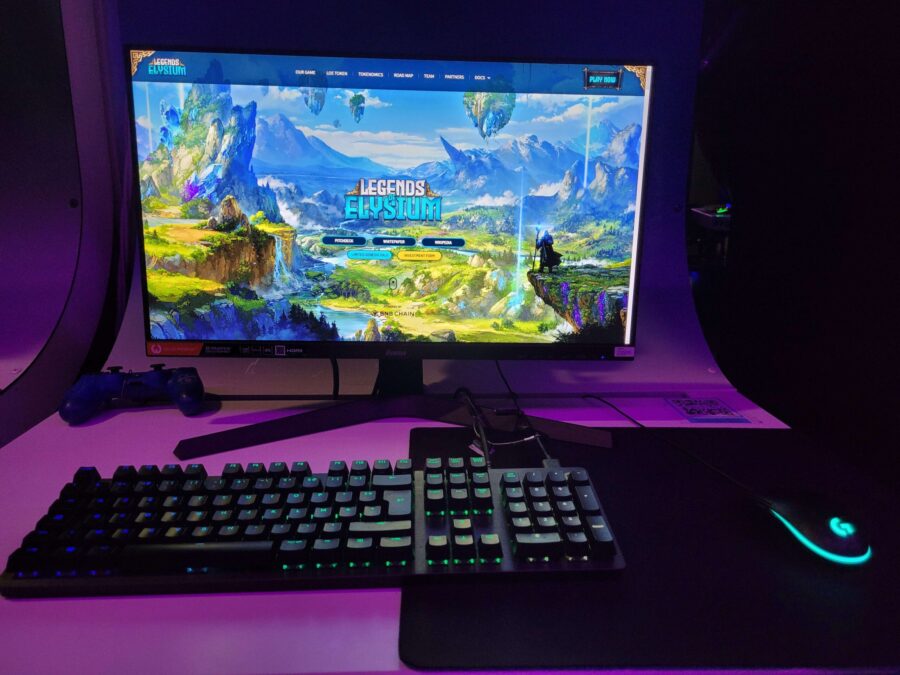 When comparing these platforms to Legends of Elysium, it's important to consider the unique features and potential of each platform. Legends of Elysium, a digital trading card game, has its own unique appeal and potential in the P2E sector. While Axie Infinity, The Sandbox, and Pomerdoge have made significant strides in the P2E sector, Legends of Elysium offers a unique gaming experience that could potentially attract a large user base. As the P2E sector continues to grow and evolve, it will be interesting to see how these platforms, including Legends of Elysium, adapt and innovate to meet the changing needs and interests of players. Digital trading card games have been gaining popularity in recent years, with games like Hearthstone and Magic: The Gathering leading the charge. However, a new contender has entered the arena – Legends of Elysium. This game combines the strategic depth of a trading card game with the immersive world-building of a board game, offering a unique gaming experience. Legends of Elysium stands out in the digital trading card game genre with its innovative gameplay mechanics. The game is played on a hexagonal board, where players deploy their heroes and use cards to battle their opponents. The cards, which are the basic elements of the game, come in three types: units, spells, and items. Each type of card plays a crucial role in the game, adding a layer of strategy that keeps players engaged. Moreover, Legends of Elysium introduces a soft in-game currency called Elytronite. This currency is used to reward free-to-play users for their activity, contributing to a healthy game economy. Elytronite cannot be purchased in the Store, but can be earned in-game for actions such as daily login, completing daily and monthly quests, or achieving specific milestones.
When compared to other digital trading card games, Legends of Elysium offers a unique blend of strategy and fantasy. While games like Axie Infinity and The Sandbox have their own merits, Legends of Elysium's fusion of a trading card game and a board game sets it apart. The game's focus on strategy, coupled with the immersive world-building, offers a gaming experience that is both challenging and engaging.
In conclusion, Legends of Elysium is a promising addition to the digital trading card game genre. Its innovative gameplay mechanics and immersive world-building make it a game worth exploring for both seasoned players and newcomers to the genre.