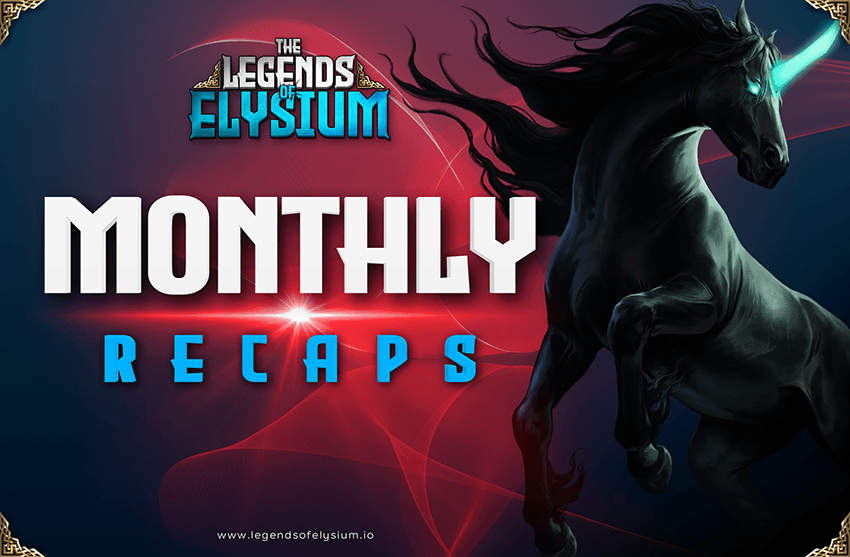 Dear Elysians,
"It's aliveeeeeee." – we have our Alpha working and being tested. Sneak peek of the UI is available HERE, comments and reactions only help 🙂 
Our community keeps growing! At the time of writing this article we have 14,500 followers on our Twitter and 1,500 Elysians on our Discord. We have started Ask Me Anything (AMA) this month and we are planning to have more of these in the coming months. Keeping you, our community well informed is important to us. You are an integral part of the project, we are building Legends of Elysium for you, and we value your feedback so make sure to share it on our Discord server and join our AMAs to get your questions answered.  
We have recently announced a partnership with gaming NFT marketplace – Prom. LOE assets will be available there. This is yet another expansion and availability for LOE assets. We are going to Token2049 in Singapore to strengthen existing partnerships and bring some new ones. 
To expand in new territories and engage you even further we have started an Ambassador program. All interested, who work within Web3 and Gaming or want to start adventure in these sectors are more than welcome to apply. As they say, the first step is the hardest. 
Partnership with Ultra resulted in releasing the First collection of LOE NFTs deployed on their newly opened marketplace on 29th August 2022. 
With pride we can say that they have been sold within seconds!!!

We strongly encourage community members to read an official communications and description of assets before they make a purchase, only for your SAFETY and avoidance of confusion regarding the utility of the assets 
Thank you for your ongoing support on our socials. This is important for the project and its success.
'Legends of Elysium' activities in August 2022: 
2022-08-01 – LOE community reach 10,000 on Twitter
2022-08-03 – An official partnership with Fun Fair Ventures
2022-08-13 – LOE team is going to Singapore for Token2049! 
2022-08-15 – AMBASSADOR Program officially opens! 
2022-08-19 – An official partnership with Prom an NFT gaming marketplace
2022-08-22 – LOE UNIQ NFT and Ultra platform announcement
2022-08-24 – Official presentation of UI 
2022-08-27 – Our partner Primebit Games at work on LOE
2022-08-29 – LOE token Utility explained in details
2022-08-30 – First collection at Ultra platform has been sold in seconds 
Follow us on Twitter to get the most updated information.
Take care folks and see you next time!