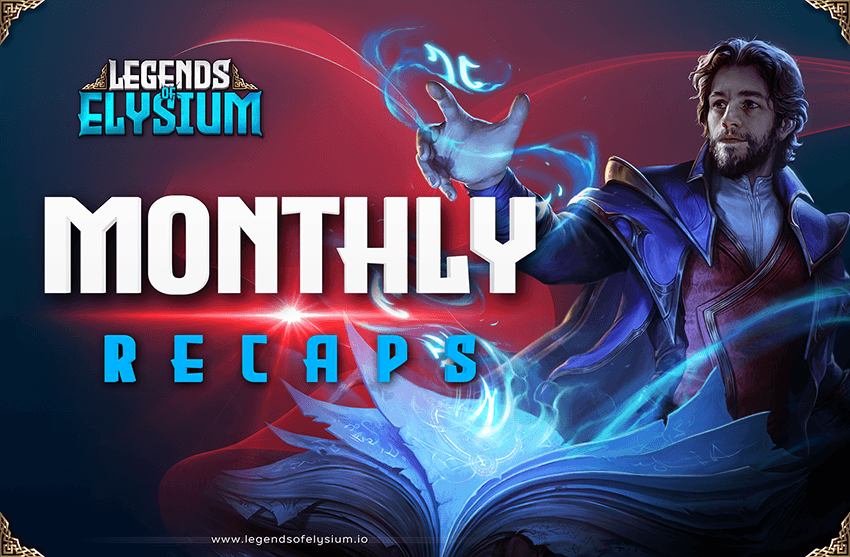 Dear Elysians,
Thank you for ongoing support of the Legends of Elysium project. With such a great community we are destined for success and we will thrive in the web3 space and beyond.
As March explode with information and activities we decided to group them in sectors:
Educational Airdrop Campaign:
We have launched a Phase 1 of an Educational Airdrop Campaign on 6th March 2023. Huge success to date. We are promoting a Phygital trend, physical items linked with digital benefits. More on this subject in our wiki — https://wiki.legendsofelysium.io/knowledge-base/learn-earn-200000-loe-airdrop/
We have performed several AMA's with our campaign partners. To add, we have created a Crew3 campaign , which was on top10 campaigns in Crew 3. This is beyond our expectations and thank you all for joining and participating in the quests.
Remember Phase 1 will be rewarded with 1,000,000 LOE tokens to those who meet criteria and in April we are starting Phase 2 with an astonishing 3,000,000 LOE tokens as a Learn & Earn reward. Make sure you follow our twitter to receive the most up to date information.
We would like to thanks partners in the phase 1 of campaign: Prom, NFTrade, MILC, ARI10, Token Ventures, Spintop, Splinterlands, ArcadeNetwork, GameTrade, Alaska Gold Rush, kudos for support and enabling delivery of Phygital trend to their communities.
NFT Genesis Sale:
This will be the culmination of our educational campaign, stay tuned, be active on Crew3 , join AMA, there are still several WL left for grabs. Rest will battle in the gas war in FCFS.
Unboxing: https://www.youtube.com/shorts/HMtOZToQDQ0
Medium: https://legendsofelysium.medium.com/limited-genesis-nft-collection-sale-9589f471e47a
The Game:
First, message from LOE CEO Marcin Skowronski:
Second, our Teaser:
Third, official Gameplay:
Elysian, if you want to become an investor => Fill this FORM
Partnerships and Advisors:
GAMERSE – we are pleased to be part of the ecosystem of Gamesre which connects Web3 Games and Gamers in a community-driven social hub. Their decentralized web3 Gaming and Metaverse social aggregator ecosystem unifies the fragmented GameFi space.
UNIX GAMING – the guys who built one of the largest p2e guilds in the world. When they realized p2e gaming wasn't the future of web3, then they decided to fix it. Now, they're helping some of the best games in the industry become success stories.LOE is next!!!
OWNED – Product of Unix Gaming. A comprehensive vendor dashboard to monitor, manage, and grow LOE game and its community. We will use their built in launchpad to streamline new mints and manage some of LOE assets directly through OWNED.
Fotis Sach – co-founder of Prom.io , great persona, big gamer, huge LOE supporter, the guy.
LOE assets will be available in Prom marketplace  as many more games in the space.
'Legends of Elysium' activities in March 2023:
2023-03-03 – an official partnership with GAMERSE
2023-03-06 – start of Educational AIRDROP Campaign
2023-03-07 – AMA with GameTrade
2023-03-07 – info on Airdrops.io
2023-03-08 – Phygital Torg Whitehand unboxing
2023-03-08 – International Women Day – best wishes to all ladies
2023-03-09 – Legends of Elysium Teaser
2023-03-10 – AMA with PROM
2023-03-10 – RACE FOR GLORY with Gamefi
2023-03-13 – an official partnership with Unix Gaming and Owned.gg
2023-03-15 – Cryptostache LOE Review
2023-03-16 – AMA with Tegro
2023-03-16 – LOE Gameplay
2023-03-23 – AMA with Splinterlands
2023-03-24 – an announcement about Limited Genesis NFT Collection 
2023-03-27 – Fotis Sach a new advisor joining Legends of Elysium board
2023-03-28 – an official partnership with GameSwift
2023-03-28 – a message from Marcin Skowronski CEO of Legends of Elysium 
2023-03-28 – MILC Platform card back collection revealed 
2023-03-28 – snapshot of current holders of Ultra uniq NFT holders
2023-03-31 – top 3 most voted Games by Community on GameFi  
2023-03-31 – second place by Judges on Gamefi 
Follow us on Twitter to get the most updated information.
Take care folks and see you next time!