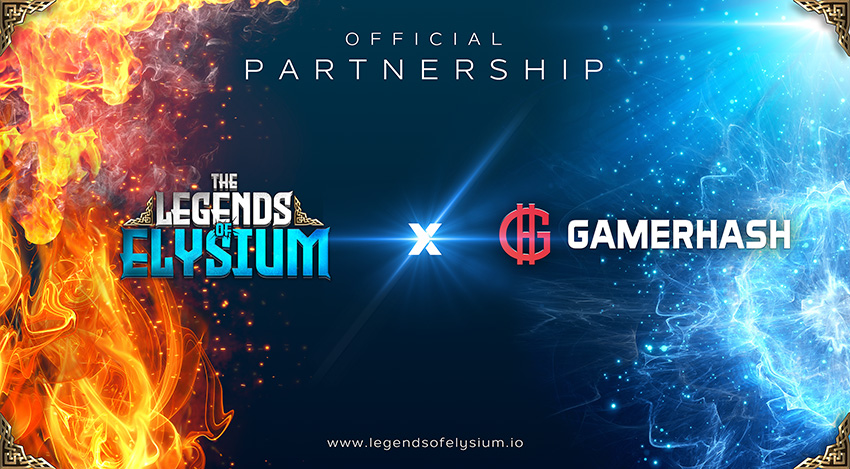 GamerHash has confirmed that they will be spreading the news about the Legends of Elysium (LOE) through GamerHash channels and communities in order to present the way the NFTs and blockchain technology can be used in a fun and entertaining way.
Gamers joining the LOE universe through GamerHash will be able to enjoy the game with many of the additional perks and even unique NFT cards! So why exactly is it worth sticking with GamerHash when it comes to the Legends of Elysium partnership?
GamerHash community members will be able to grab special NFTs cards with the GamerHash signature.

Gamers who will join the Legends of Elysium universe through the GamerHash Play and Earn module will receive additional EXP points during special events, or avatars depending on the current campaign.
GamerHash was created in 2017. Now, GamerHash is recognized all over the world and has more than 600,000 users. The main idea of the project is to allow gamers to share their computing power by simply running the GamerHash app in the background. The GamerHash app automatically chooses the most profitable cryptocurrency to mine and brings the biggest rewards to the user. The rewards (Bitcoin and native GamerHash cryptocurrency GamerCoin) can be withdrawn or used in their GamerHash Store where +600 digital products can be found (prepaid cards, games and many more). You can say GamerHash created one of the biggest supercomputers on the planet, using the voluntarily contributed computing power.
When letting GamerHash apps use the idle computing power of your PC you are becoming the cryptocurrency miner. Miners are the people who are making the Bitcoin and other cryptocurrencies transactions possible thanks to computing power-sharing.
By allowing the decentralized networks (like Bitcoin) to exist, cryptocurrency miners receive rewards — sometimes very big ones! Browsing websites, watching movies or working with documents require a fraction of your hardware's power. This is why with GamerHash you can easily earn while watching Netflix or playing Cyberpunk 2077!
GamerHash social channels: