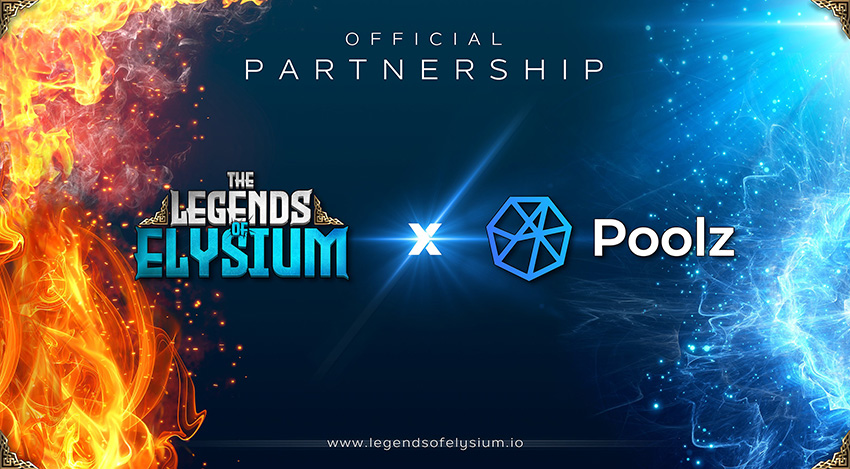 Poolz is a decentralized fundraising and cross-chain launchpad. It is a hub for DeFi apps, enabling them to unravel the power of blockchain. Poolz Venture is an investment fund set up by the core team at Poolz to further build on the core Poolz vision.
The crypto world has been pretty gloomy lately. But Poolz has got some exciting news to cheer things up. Poolz has invested in an emerging, NFT-based, digital trading card game, Legends of Elysium (LOE). It's all set to introduce new opportunities in blockchain gaming. And Poolz is here to help the team.
Legends of Elysium (LOE) is an innovative digital card game. Its strategic components let you compete in weekly leagues and monthly eSports tournaments. But if you think it's just another typical P2E game, you're mistaken.
LOE's ecosystem offers the perfect combination of challenging entertainment with earning opportunities. The project focuses on playability and quality for a rich and immersive experience. Plus it lets users monetize countless hours of entertainment. To achieve this and stand out among other card games, LOE uses high-end 2D and 3D graphics from the popular game creation platform and game development tool suite, Unity.
LOE will revolutionize eSports by letting everyone in, and not just professionals. Amateurs, casual gamers, hardcore gamers, professionals — anyone can enjoy and benefit from this P2E experience. They can compete for crypto prizes and NFTs. Moreover, Guild Wars expansion will enable whole communities to fight for extra rewards, which will come to effect in Q2 2023. Legends of Elysium is Free-To-Play with no entry barrier, something truly unseen in blockchain gaming.
Primebit Games — the award-winning studio developer with over six million downloads — is building LOE. Harping on its deep expertise, the team is gamifying a fusion of traditional card games while enhancing them using blockchain technology. That's also something setting LOE apart from its peers, ensuring long-term viability.
Elysium's fantasy world features three factions: Humans, Dark Elves, and Orcs. They are fighting for glory, riches, and a future filled with hope. Each faction has unique traits, characteristics, and powers — i.e., nature, blood, and lightning. The in-game characters belong to one of three classes, Warrior, Mage, and Archer.
But that's not where LOE ends. The team plans to expand these factions and add new races down the line. Plus, it's Web3. Customization is key. You get to build custom decks and develop strategies. The aim is to outsmart your opponents and dominate the board. You heard it right, LOE introduces a unique game mechanics by implementation of a game board where the battle takes place.
LOE has three card types: units, spells, and items. You begin with a basic, pre-built deck that enables you to start playing the game for free. But as you proceed, winning tournaments and completing adventures, you get new cards. You can even buy rare cards in the marketplace. And LOE also has an integrated rental economy.
Now, when it comes to winning, it's all about a smart strategy. You need to plan and adjust your moves according to several factors: the board, heroes, NFTs, etc. And last but not least, LOE has multiple modes to suit varied needs and availability: League, Adventure, Tournament, Friendly Duel, and Battlefield.
The P2E game is only one of the revenue streams in LOE. Its extensive economy, with self-sustainable treasury mechanisms, expresses a long-term vision.
LOE has a novel Stake & Borrow service, for example. P2E games commonly offer lending and borrowing facilities these days. But finding borrowers is usually difficult, which defeats the purpose. Elysium, however, introduces a staking system where you can deposit NFTs and earn APY, without worrying about finding borrowers. Of course, you can also borrow these NFT cards and use them in your deck.
So, now you know why we decided to invest in this game. It has tremendous potential, and that's what we nurture. LOE will add foundational value to Web3. We are excited to have onboarded the bandwagon early, looking forward to empowering gaming communities globally.
Poolz Finance social channels: