Learn & Earn $200,000 – LOE Airdrop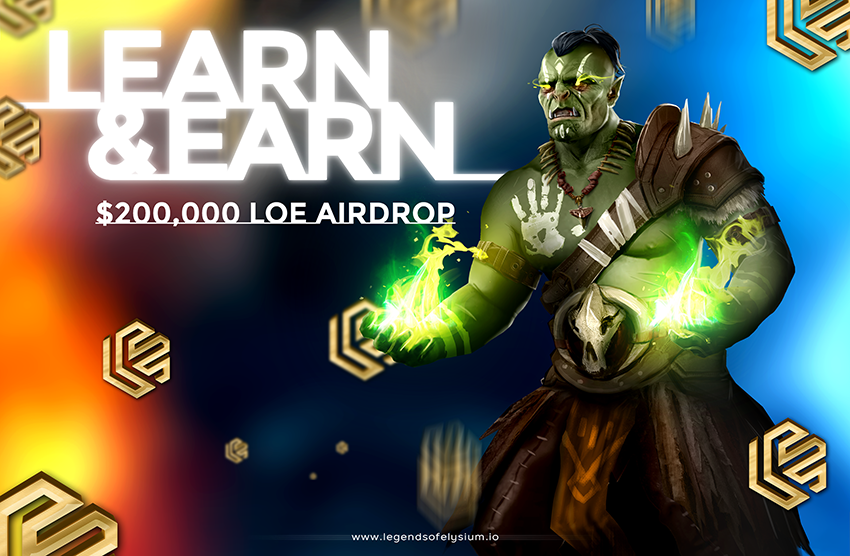 In an effort to educate players about new trends and innovations in the game development industry, such as Phygital items, Legends of Elysium is launching an EDUCATIONAL AIRDROP CAMPAIGN with a total prize pool of 200,000 USD in $LOE token to be given to participating users.
The campaign aims to help players fully understand and take advantage of the features and benefits offered by these new developments in the games they love. Our educational campaign goal is to help players stay ahead of the curve and stay engaged in the gaming community, while also providing valuable insights for game developers and publishers on how to create a better gaming experience for their players.
How to receive $LOE tokens
We have designated 4M LOE tokens worth $200,000 as reward for this grand educational campaign that will be airdropped to eligible participants. The campaign will be divided into 2 phases at least.
Phase 1 with rewards up to 1,000,000.00 LOE tokens
Phase 2 with rewards up to 3,000,000.00 LOE tokens
To determine how the reward will be allocated, Legends of Elysium will be using a Point Based System. This system takes into account both community engagement and participation in LOE activities. Completing activities will award participants in points, based on the quests completed. Once the all phases of the campaign end, all points achieved by participants will be summed.
Total token rewards of the current phase will be divided by all points giving the multiplier for each phase and based on that all individual rewards will be calculated. As per the example below:
Example:
100,000 users took part in phase 1 of the campaign. All points summed gave the total of 1,000,000 points. There is 1,000,000 LOE tokens allocated to phase 1
1,000,000 LOE / 1,000,000 points = 1 LOE/ point
All users will be eligible to additional bonus:
5% — for each Card Back collection — card backs bonus doesn't accumulate for the same card back
https://opensea.io/collection/legends-of-elysium-card-backs
10% — for each discord role (other than Elysian role) will be included in calculation of the total amount of airdrop
Roles: Polyglot, Engineer, Bard, Awakened, Friendly Elemental, Artisan, Jester, Wiseman, Hatchling
15% — Ultra Collection
20% — Elya — first official Legends of Elysium NFT
https://opensea.io/collection/legends-of-elysium
Bonuses may be added together. Total possible bonus 50%
Equation to calculate an airdrop
(1+ [bonus] ) * ( [collected points] / [total points] ) * total pool = [reward]
Example 1:
User has:
1 Card Back NFT
[1+5% (NFT bonus)] *10,000 (collected points by the user) / 10,000,000 (total points of all users) *1,000,000 (airdrop pool) = 1,050 LOE (user reward)
Bonus Example 2:
User has:
1 Polkastarter.GG Card Back NFT
2 Faraland Card Back NFTs
1 Elya NFT
The Total Bonus will be:
1 x 5% (Polkastarter.GG) + 1 x 5% (Faraland — the second one doesn't count) + 1 x 20% (Elya) = 30%
Bonus Example 3:
User has:
1 Polkastarter.GG Card Back NFT
6 discord roles
1 Elya NFT
The Total Bonus will be:
1 x 5% (Polkastarter.GG) + 6 x 10% (user has 6 roles on LOE discord) + 1 x 20% (Elya) = 85% but needs to be reduced to max 50%
The more engagement and participation an account has, the higher the airdrop allocation will be.
Genesis NFT Sale – Whitelist
On top of the reward in $LOE tokens, the top 30 users with the highest amount of points in Phase 1 will get Whitelisted for the Genesis NFT sale. The top 70 users with the highest amount of points in Phase 2 will receive WL for the Genesis sale.
Additional rewards
During the campaigns, the Legends of Elysium team will distribute additional rewards as separate tasks (e.g. common cards, special avatars, additional roles) in phase 1 and 2. These rewards will be available through crew3 actions also.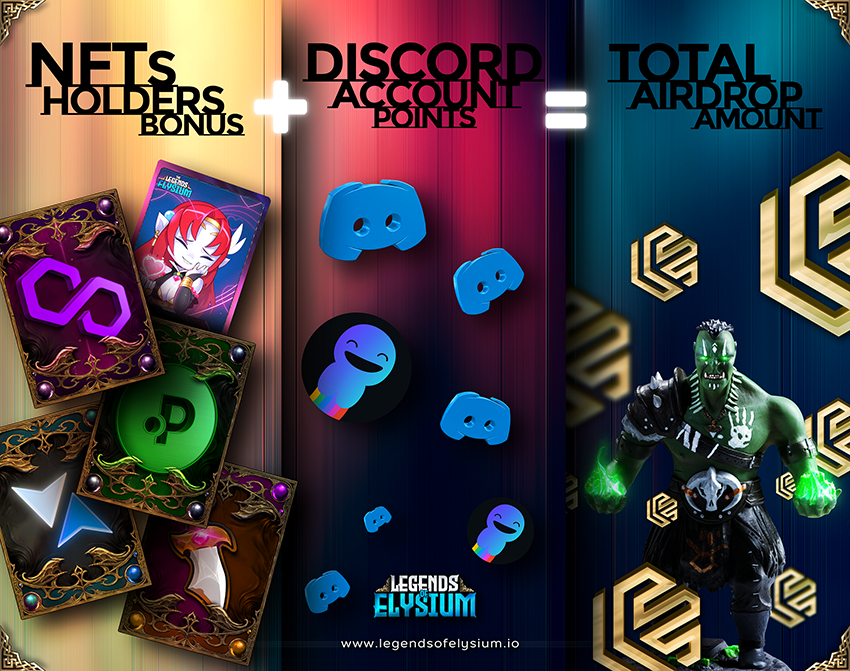 Rules
Participants will need to provide a non-custodial EVM compatible wallet address and e-mail address. To be eligible for airdrop, user must meet specific criteria. The allocation per account will depend on the points calculated based on the account's engagement, participation in LOE activities and Legends of Elysium collectibles owned by the account.
Elya NFT and Card Back NFT must be kept on the same address registered to Crew3 Bot.
The 1st Phase of the campaign will last at least 1 month.
To be eligible for the airdrop you need to get at least 1000 points.
Don't miss out on this opportunity to earn $LOE Tokens and be a part of the Legends of Elysium community. Join our Discord, Telegram channel, and follow us on Twitter to get started.
Share this article and tag us on any of our socials to let us know.
LET THE JOURNEY BEGIN
✅ CLICK HERE✅