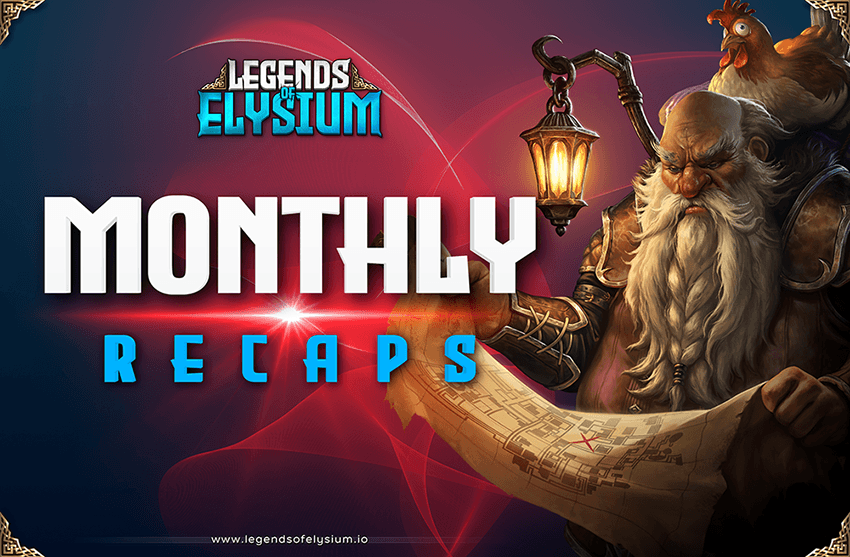 Dear Elysians,
Winter has come, crypto space is quieter than normal and you can smell the fear in the air ?. Overall sentiment on the market may be weak, but strong teams continue building. We will enter into a new phase much, much stronger from those experiences. 

As we have seen the first snow, we have started our Christmass giveaway earlier this year. Make sure to join: Gleam Campaign, if you haven't done this yet.

We know that all of you are eagerly waiting to play Legends of Elysium, that's why all of our focus is centered on building and delivering high quality entertaining production. After the winter comes spring, and projects which survived difficult times will thrive! 🙂 
As the development progresses we completed another milestone. Our Art Director Marcin Dudek proudly delivered the final version of our UI, which is officially closed. Now all of his energy is focused on polishing the gameplay. Our Closed Alpha is being tested internally and new features are being added as we are slowly getting ready for the Closed Beta phase, where broader community will be able to join the fight and help us test the game further. Progress is humongous.  
Onboarding such an amazing team of Ambassadors was like hitting a jackpot! They participate in testing of Alpha version, they have amazing ideas for improvements and in general they help us a lot. We are having lots of brainstorming and new features will be implemented, as a result of these sessions. 
On top of that our AI scripts are being written and we have first simulations ready. Now we implement the skills of units. This will improve balancing of the cards in the near future.   
Our COO, Darek Piaskowski joined Token2049 in London. He is pleased with new collaboration perspectives. He also strengthened existing ones. New collabs are processing adding new exposure for LOE within the space. 
We have partnered withDeQuest and CryptoGuilds . Both platforms specialize in scholarship programs for newcomers into space. This is one more way to spread adoption of web3 through knowledge and education. We are excited and thrilled to work with the teams.

Our Phygital assets are heading towards final stages, more news on this in future.
Just a reminder, the Legends of Elysium project has been officially listed on Coin Market Cap and Coingecko. Make sure to add us to your watchlist and support LOE.

Thank you for your ongoing support on our socials. This is important for the project and its success.
'Legends of Elysium' activities in November 2022: 
2022-11-10 – Summary of London Token2049
2022-11-11 – BSC News – an interview with Darek Piaskowski
2022-11-13 – LOE Christmas giveaway announcement
2022-11-15 – Fair Play Collective – Twitter space web3 gaming 
2022-11-26 – project AMA on Discord 
2022-11-28 – Official partnership announcement DeQuest
2022-11-30 – Official partnership announcement CryptoGuilds
Follow us on Twitter to get the most updated information.
Take care folks and see you next time!