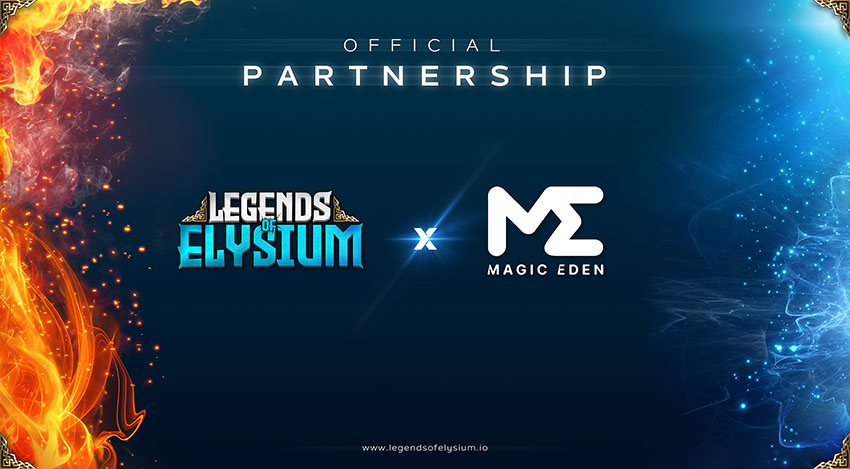 Legends of Elysium is excited to announce our partnership with Magie Eden. Magic Eden which represents a sense of limitless possibility. NFTs are the future of art and culture. 
They consider themselves stewards of the NFT space. They've built the most liquid secondary marketplace and we are the first marketplace to implement bidding, rarity index, and a dedicated minting platform that automatically connects to our secondary marketplace. They're just getting started.
Magic Eden operates is several fields:
Core secondary marketplace – they offer creators the greatest liquidity, holding over 90% market share for secondary trading volume on certain Blockchains and majority share on others.
Launchpad – Launchpad is their exclusive minting platform. They accept 3% of all Launchpad applications and feature only the best projects. The greatest exposure and widest reach on Web 3. The greatest potential for secondary trading volume post-mint. A hassle-free mint with dedicated development support.
Whitelabel marketplaces – Partnering with ME by powering our own marketplace or mint button with our tech under your hood. Raydium's NFT marketplace, Okay Bears' Bear Market and Exodus' mobile wallet NFT marketplace, are all powered by Magic Eden.
Partnerships – join global brands and leaders, and drop your NFT collections with them! From white-glove partnerships to something completely new, they want to hear your bright ideas
Games – More than 90% of all NFT gaming secondary trading volume occurs on Magic Eden. They are passionate about supporting game creators and their communities. They've partnered with top gaming projects to launch Magic Eden Games, a place for games to call home on Solana & Beyond
Tokenomia.pro social channels: