A Fantasy World That Puts Gamers First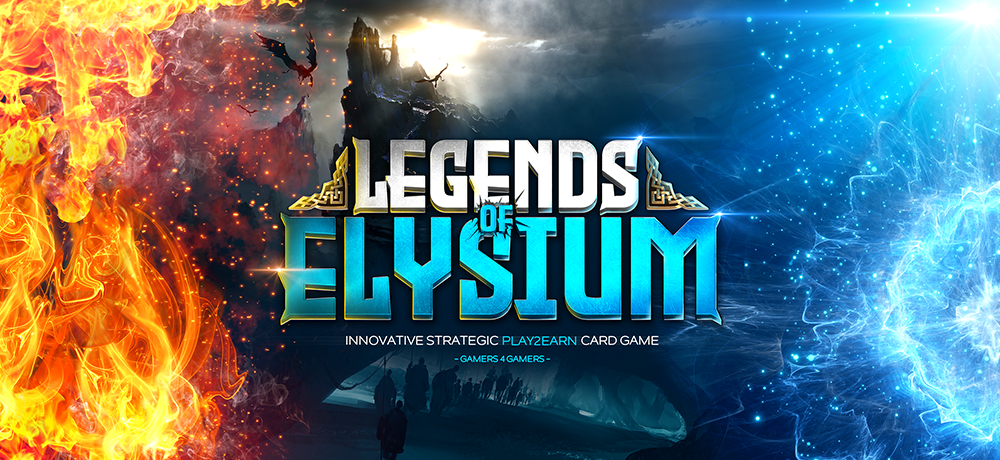 Solving the Blockchain Gaming Problem
The world of gaming is experiencing an evolution centered around capturing the unique abilities of blockchain technology. The emergence of Web3 gaming has sparked an explosion of game varieties, bringing new mechanics, new user experiences, and many more changes to how games are played and managed.
New changes bring new challenges. Blockchain gaming surged onto the scene during the most recent bull market using labels like Play-to-Earn, Play-to-Own, and others. Of course, the first steps into a new paradigm can be uncertain. Despite overwhelming enthusiasm throughout the crypto universe for the development of new gaming styles and novel uses of blockchain technology within games, many felt that these initial ventures missed the mark.
The new games that emerged widely underperformed in many key elements that make games great:
Do the gameplay graphics appeal to users?

Has the game been developed with quality mechanics by an experienced team?

What about the profit motive for new concepts of "to-own" and "to-earn"?

But most of all – Is the game even fun?
"Games are made for entertaining people," says Legends of Elysium CFO Marcin Nowak. "They spend their time playing because they want to be entertained rather than have a job."
Early Web3 and blockchain games pioneered the mechanics and variations available to today's players and developers behind our emerging title: Legends of Elysium. The industry is still very much in an era of development where the issues which caused early games to fail must be resolved in order to compete in the future.

Pursuing a long-term vision strategy while building off the innovative Phygital trend, we are building Legends of Elysium (LOE) as a cutting-edge game to meet the changing expectations of the industry and put user experience back at the center of gaming.
The advanced digital strategy incorporates the best of the new technology that makes Web3 gaming great while creating a fun experience for players. Users coming to LOE will play — and earn — to take advantage of the full Web3 gaming experience.
LOE Team Vision: "Heroes Get Remembered, But Legends Never Die"
Founded in 2021, our team has had a clear focus from the start. Seeking to capitalize on the emerging niche market of crypto gaming, we cemented entertainment and earning power as the key pillars upholding the foundations of Legends of Elysium. Noting a lack of crisp and rich Web3 games, we bring a long-term vision that should stand strong against the tests of time.
LOE centers around true ownership of Non-Fungible Tokens (NFTs), the key to unlocking the world of Web3 gaming. Make no mistake: We feel that the ownership of in-game assets is a revolutionary step for gaming.
Another hallmark we value is a high-quality game experience that players enjoy. Legends of Elysium flexes the top graphics of the cross-platform Unity game engine to showcase the entertainment potential of Web3 gaming. The crisp, clean graphics instantly set our game apart from its Web2 and early Web3 gaming predecessors.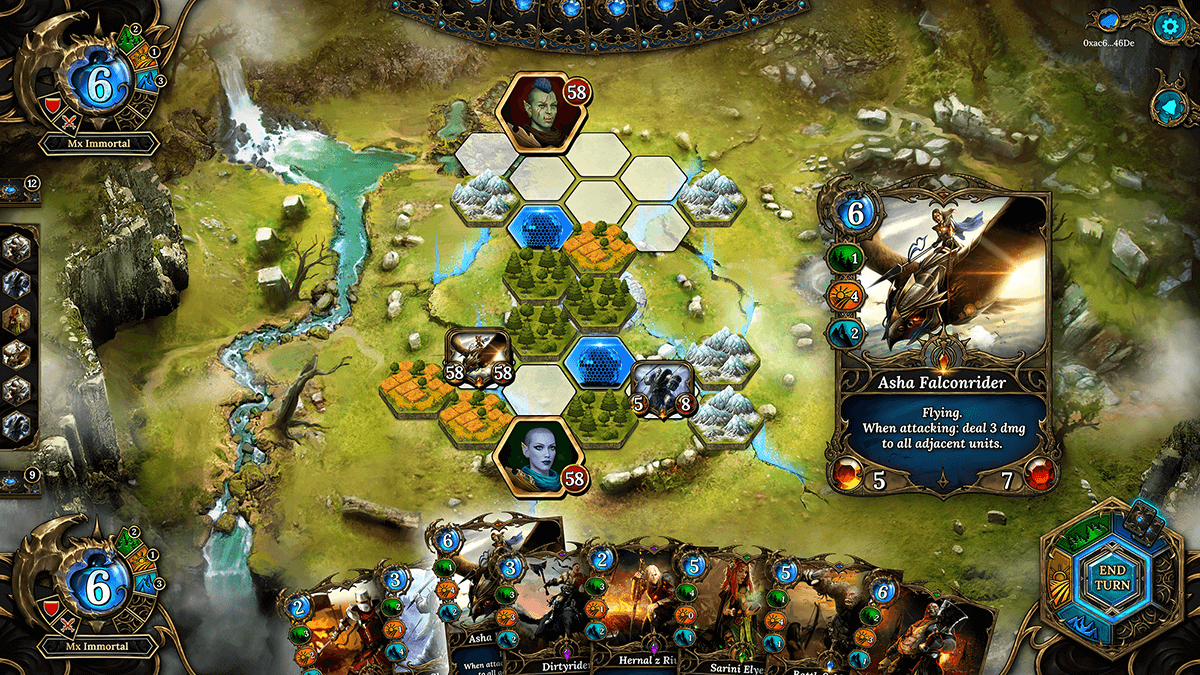 At the root of our long-term vision is quality development. LOE is being developed by ​​DA Games OU with the support of top partners from PrimeBit Games S.A (PBG) of Poland. The team at PGB has created games like Clash and Magic Nations while also gaining recognition for winning several national and international awards.
The two gaming studios came together in late 2021 when ten developers from PGB began working on LOE. We are now a team of more than twenty industry professionals that retain the caliber of top-level human talent that is vital for gamers to recognize quality development.
The LOE team is led by a Co-Founding team of five from Poland: CEO Marcin Skowroński, CCO Marcin Dudek, CTO Eryk Rutkowski, COO Dariusz Piaskowski, and CFO Marcin Nowak.
While 2022 was a year of heartbreak and collapse for many crypto projects, platforms, and exchanges, we focused on the building and development behind the scenes in preparation for a breakout in 2023.
In Ancient Greece, Elysium is the mythological resting place for immortal heroes — where the dead live forever. The depths to which the global crypto market fell last year present an opportunity for LOE to rise from the shadows and create its own legend. Our game is set for full release by the end of 2023.
Legends of Elysium appeals to players familiar with classic trading card games like Magic the Gathering as well as the hexagonal board game style of franchises like Catan or Civilization.
A primary requisite to growing the Web3 gaming industry is finding a way to attract players from classic titles to take a chance on the new generation. How can users be enticed to switch platforms or change their allegiance?
Our team tackles the challenge first by eliminating the friction of Web3 onboarding. For this reason, LOE is free-to-play with no barrier to entry. This means new users don't need to worry about paying in order to begin. Say goodbye to purchasing expensive assets just to begin your experience! Users will also be able to join seamlessly using familiar user-friendly Web2 log-ins like Google accounts.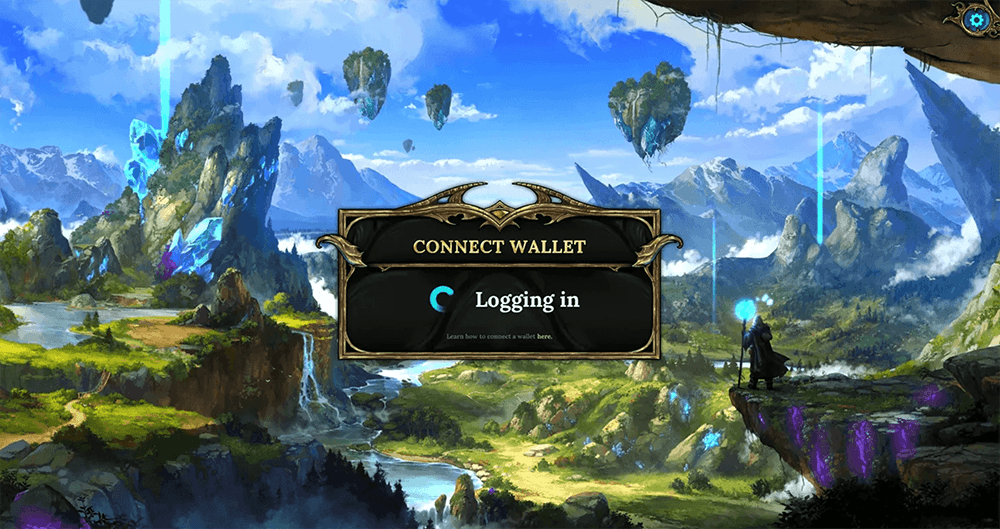 The incorporation of AAA gaming development is also an outstanding feature to LOE. Beyond impressive graphics and in-depth strategy mechanics, new emerging technologies like Dynamic NFTs boost the game experience to another level beyond that of earlier Web3 games. Dynamic NFTs enhance the user experience with unique asset evolutions and changing graphics. Building an attractive and appealing game cannot be overstated, and our devs put special emphasis on aesthetics and the user experience.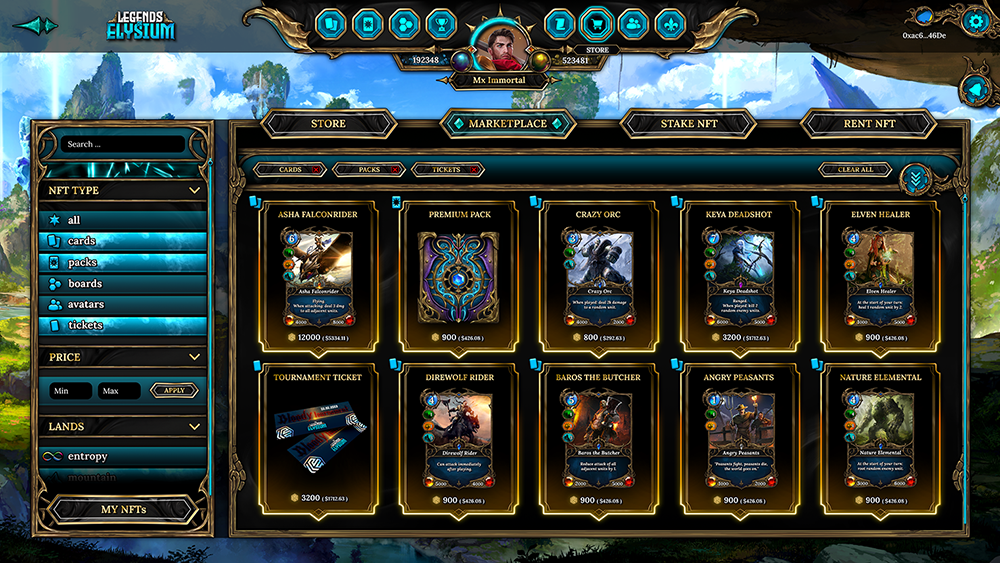 Finally, a crucial component of the gaming experience is other gamers. Our team places a high premium on developing a communal experience among players that can be competitive, friendly, and lucrative! There will be regular Esports events to give players new and fresh challenges. Players can win prizes and prestige to enrich their gaming experience and showcase their skills.
Legends of Elysium Gameplay
Game Lore and Characters
The backstory and lore behind any fantasy game are crucial to game development and attracting players. Building compelling narratives and storylines helps users to immerse themselves in the feel of the game. We understand and place a high premium on this.
The game starts with three races — Dark Elf, Human, and Orcs — but more are in development. Each race also has three classes that determine the abilities of each character: Warrior, Archer, and Mage. Players use different combinations of these races and classes to get the best benefits on the battlefield in combination with units in their decks. Together with items and spells, characters can be enhanced for greater potential.

Ownership of characters is an important aspect of the LOE ecosystem. Again, keeping in line with the true ownership ethos, users will have complete control over the fate of their NFT characters. Develop. Trade. Sell. All these options are on the table.
The dynamic NFT capabilities also incorporate unique abilities to evolve characters not seen in Web2. Users grow characters by earning XP that is used in a conversion rate to calculate the change in characters.
Our vision for gameplay in Legends of Elysium brings the style of a physical board game with digital features. Like Magic the Gathering, players use cards to build decks to compete in the varying game formations and modes.
The gameplay will incorporate various NFT technologies to optimize different revenue streams for players
Cards and Packs
The cards are the basic element of the game. There are three types of cards: units, spells, and items. Players can make different deck combinations with a maximum of 24 cards. All cards come with four tiered varieties familiar to other card-based games: common, rare, epic, and legendary. Using the units, spells, and items, players fight and compete with customizable moderation.
Players can acquire cards by buying them through in-game marketplaces or earning them by completing achievements. Achievements can range from simple tasks, like logging in, to more difficult challenges, like winning an Esports tournament. The packs themselves come in three types: standard, enchanted, and divine.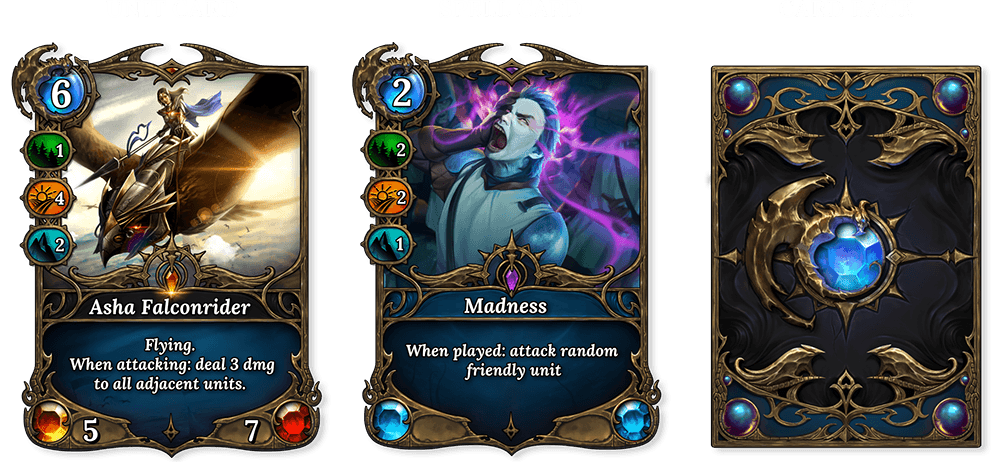 Cards and packs are earned at various points in a player's journey and can make or break the gaming experience. The more a player plays, the more they can grow and develop their assets. Remember: All assets are owned directly by the player. LOE does not retain ownership over any in-game assets acquired by players.
The cards are played to create actions across the game board. Several variations exist of the hexagonal game board that lead to different outcome potentials for each game. Like Catan, no game should ever be the same!
Game Board
The game board is home to different resources and abilities: forests, farms, and mountains, plus one-time-bonuses and special fields. Users can earn and develop these resources to enhance character and asset abilities and gain an advantage on the battlefield. One-time-bonuses and special fields help manifest dynamic changes in the game experience. These bring new variations to each individual game and enrich user entertainment.
Each game board also has different mines that give extra benefits to the owner. Keeping in line with the true ownership ethos of LOE, users can become board validators. These board validators own aspects of game boards to help earn more rewards.
Game Modes
Four game modes are available to play. Each mode brings a different user experience, enabling maximum player growth and enjoyment. The four game modes are League, Adventure, Battlefield, and Tournament.
League is a multiplayer battle mode that pits players against each other in weekly competitions for prizes and places at the top of the weekly rankings.
Adventure mode is a single-player option that allows users to explore new game boards and experiment with new assets like races and items. The adventure mode will be an ideal training ground for users to compete against AI to grow and prepare for other game modes.

The two remaining modes are multiplayer tournament styles. The aptly named Tournament mode will incorporate the Esports features of LOE. Tournaments will require users to purchase tickets with $LOE tokens for participation, with limited space available. Battlefield is a variation of the tournament style that gives instant access to the tournament-style modes without the flair of the Esports events, and can be considered a warm-up for the real tournaments.
Another feature of community growth in LOE is the addition of guilds and guild wars. Players can team up to fight in groups together to earn rewards and bring additional revenue to their group.
Game Currencies
The game currencies in Legends of Elysium unlock the earning potential for users, marking one of the key evolutions of Web3 gaming. The two currencies help bring monetization possibilities to the game and embody the important earning power built into the game by our team.
There are two game currencies available to users: Elytronite and the $LOE token. Elytronite is the soft in-game asset that users can earn and use to buy new packs, new adventure modes, more deck slots, and a growing number of user experiences. Elytronite is not exchangeable outside of the LOE ecosystem and is not redeemable for any liquid fiat.
The $LOE token, on the other hand, is the key to truly passive income. The premium currency of LOE, the $LOE token is an ERC-20 token minted on Polygon with a total supply of 500 million tokens. There will be an initial market capitalization of $475,000 without liquidity ($825,000, including liquidity at listing).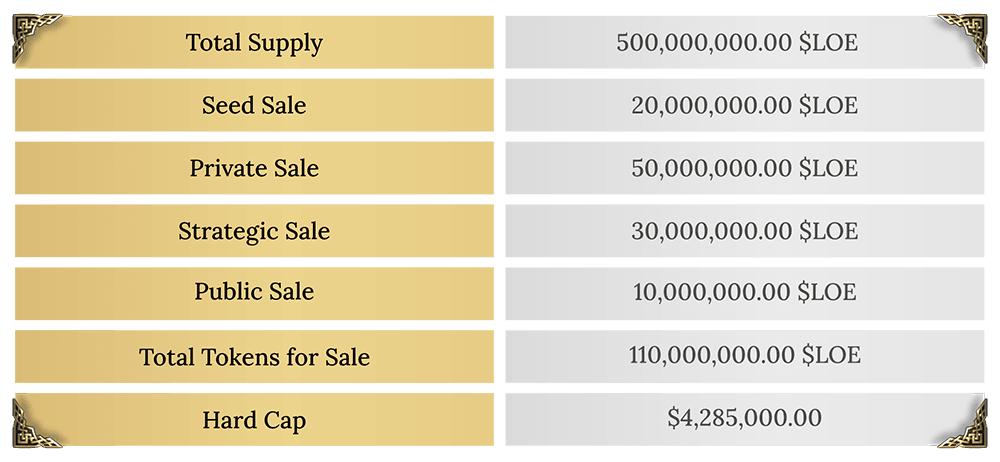 Players can earn $LOE tokens similarly to Elytronite, but a key difference is that the game unlocks several other degrees of in-game purchasing power. The $LOE token is also used for governance decisions to direct and manage the evolution of the game.
30% of the $LOE tokens will be preserved in the game treasury, where users can earn tokens through the various revenue streams in the game. Tokens used to buy in-game features will be sent back to the treasury, not burned. This maintains a self-sustainable game economy.
The Year of Elysium
As the crypto industry enters a new market cycle, new winners and losers will emerge. It is widely predicted that Web3 gaming will be a major catalyst in the next bull market run. Often seen as a lynchpin to mass adoption of blockchain, Web3 gaming will be important to onboarding users to the future of entertainment, technology, and finance.
Player ownership and earning potential are two features of this next evolution. Soon the days of players sinking cash into studio-controlled assets will be long gone. It will be games like LOE that will manifest this reality for users.
We are building solutions in Legends of Elysium to the problems uncovered by early blockchain games. Bringing the focus back onto user experience and earning power gives LOE an edge over competitors. Combine that with an emphasis on community, and LOE will bring users a variety of gameplay modes — from P2P battles to single-player adventures — that make a truly world-class gaming experience.
Quarter 3 of 2023 will see the beginning of its open beta launch as players can begin putting the game to the test. We will continue the year with several major milestones as our team progresses through its roadmap. An entirely achievable roadmap cultures solid community expectations that our users can follow and get hyped about.
Legends of Elysium is primed to break out as a leader in the emerging Web3 gaming industry. With a focus on user experience and earning potential, LOE has the right pillars in place for success in the future.
Will you be here for the revolution?