Legends of Elysium is a web-based fantasy card and board game set in a fantasy world. It is a Free-To-Play entertaining production, in which players compete with each other in epic battles to win their share of the treasury. Players build their own custom decks and develop well-thought-out strategies to outsmart their opponent and gain advantage on the battle board. Different races and classes with unique skills allow players to create a hero that best suits their playstyle and strategy. Winning a battle allows players to gain more experience necessary to advance their heroes to a higher level and, as a result, getting access to new skills, better rewards and more money!
The "Play-And-Earn" model has provided us with the introduction of several attractive gameplay modes adapted to the time needs of each player, at every level of advancement in the game.

League
League is a multiplayer mode and the main source of rewards  for players. It is a ranked match, where players get points for winning the battle and as a result advance to higher levels of the league. However, defeat in a battle results in a player losing points from the ranking and dropping to a lower position in the league. At the end of the week, the best players will share the prize pool amongst themselves.
Friendly Duel will be available as a game mode in which players can challenge their friends for a battle. Winning battles do not count for daily quests, do not grant any experience, ranking points or other bonuses.
Each player starts the week with 1000 ranking points. They receive ranking points for winning battles and thus increase their ranking, while they lose ranking points for lost battles. Depending on the outcome of the battle and the remaining life of the winning hero, a player may gain or lose ranking points as shown in the table below.

Example 1: 
Player 1 wins and has 100% HP left:
Player 1 receives 200 ranking points
Player 2 loses 90 ranking points 
Example 2:
Player 1 won and has 35% HP left:
Player 1 receives 100 ranking points
Player 2 loses 30 rating points
Adventure
Adventure is a single player mode that allows players to explore the newest boards containing new races and classes. It is designed to prepare players for new cards and to develop the best possible skills during boss fights. AI implemented into Adventure mode will identify weak spots of the player and train them during the battles to improve their skills. With the acquired skills, players will gain an advantage in the other game modes. In addition to the expanded storyline and a chance to get accustomed with new content, the purchase of Adventure will give players unique cards available only through completing Adventure. New cards obtained during Adventure can be used in other game modes in players' decks.
Tutorials will be a foretaste of real Adventures!
Tournaments
Tournament is a competitive game mode that will be held in a form of recurring eSports events with commentators and sponsors. There will be different types of tournament systems introduced in the game. To participate in the event, players will have to pay or win an entry Ticket. The top players will be eligible to win grand prizes in each tournament.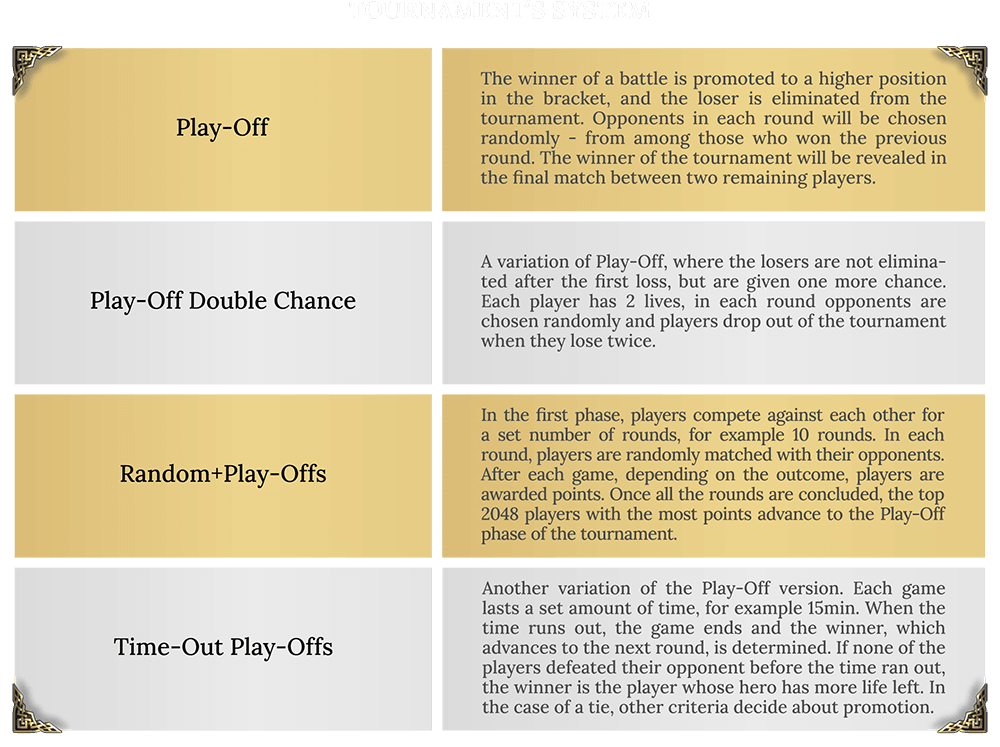 Registration for the tournament will be possible by buying a Ticket. Tickets will be available in the form of NFT (limit 1/player). In case of a limited number of seats, tickets for the tournament will be drawn in a lottery, in accordance to specific terms and conditions.
The organisers may choose to allocate special tickets granting entry to the tournament based on criteria other than random draw. Special tickets may be awarded by the organisers manually or automatically by setting appropriate modifiable criteria.
Battlefield
Battlefield is a competitive game mode, in which players can pay an entry fee to instantly participate in a tournament-style battle. Players compete with decks built through a draft method, described in the tournament section, for a chance to win the rewards. Each player can compete in the Battlefield until they lose 2 lives or defeat all opponents. Battlefield can be considered a foretaste of the real Tournament.
Guild Wars
Being aware of the growing communities of players united under the banners of gaming guilds, Legends of Elysium introduces Guild Ready Ecosystem, where both Guilds and their members can thrive and benefit from this feature.
Implementation of Guild Wars will enable multiple additional features, bringing the competitive edge between communities. Guilds will fight for the glory and additional rewards from the Treasury based on their position in ranking. Cards deposited into the Guild Vault will bring additional revenue to their owners and will be available to borrow for free by other guild members.