Cards are the basic element of the Legends of Elysium game. Cards can be classified into three main types: units, spells, and items. Units can be deployed on the game board; spells can be casted during the battle and items can equip the hero. To play the cards, players must meet the requirements of the card such as MANA cost or LAND type and cost. Different Land types can be built during players' turn on available hexes.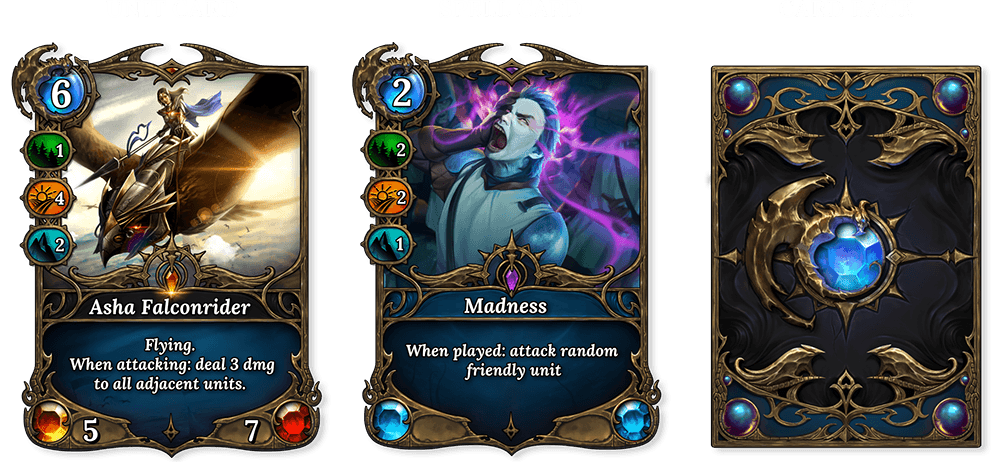 Cards are divided by the frequency of their occurrence:

To ensure true ownership of in-game assets by the player, we decided to give everyone a choice whether to mint cards or not, depending on the player's strategy. Traditional gamers need time and education about the technology and additional benefits going from it. This approach provides frictionless ability to attract users from both crypto and traditional gaming. Players can do multiple things with cards that have been minted, such as:
Using them as part of their strategy and part of their deck in the game
Selling them in the marketplace
Staking them and receiving rewards
Burning them to receive the dust required to craft new cards
Depositing them into the Guild Vault
Cards can be received by opening Standard, Enchanted or Divine Packs, completing quests, playing in Adventures mode and in several other ways.
Deck
Players will be able to build their own custom decks from the cards they own. Each deck will consist of 24 cards and must follow general rules of deck building introduced in Legends of Elysium. New players will gain access to basic decks pre-built by our team and available for free and get all the cards included in them. Players can receive new cards by completing in-game quests, and Adventures, crafting in the collection, buying them in the marketplace, as well as by opening obtained card packs.
Packs
Card Packs are items containing random cards. Players can open obtained card packs to acquire new cards. There are 3 types of card packs available in the game: Standard, Enchanted and Divine.
Standard Packs can be acquired by winning in Battlefield modes, completing quests, buying them in the Store and in several other ways. Each Standard Pack contains 5 cards. In this pack the chance to draw a card is as follows.

Enchanted packs are limited to 5000 packs per each released race. Each Enchanted pack gives a chance for 1 Rare card or better and 4 random cards with chances as in Standard packs.
Divine packs are limited to 500 packs per each released race. Each Divine pack gives a chance for 1 Epic card or better and 4 random cards with chances as in Standard packs.