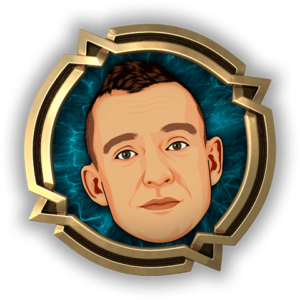 CHIEF CREATIVE OFFICER
I have been a gamer since childhood. My first computer was the Atari, next Amiga, first PC computer with 286 processor. I understand the gaming industry and I'm passionate about it. My adventure in graphic design began, because I wanted to participate in creating productions on this market. I have 20 years of experience in graphics and advertising. In our project I'm responsible for supervising graphic designers and ensuring that the highest quality will be delivered. At the same time I design marketing content and in-game graphics for Legends of Elysium as well. I go back in my memories to the titles I grew up on, like Heroes of Might and Magic, or Magic the Gathering. During the production of Legends of Elysium, as a team we try to make our game have the best features of the games we remember as ground-breaking. I have been fully involved in the cryptocurrency market since 2016. I've been following the P2E trend very closely since it first appeared. I believe that currently the production quality is not at the highest level, we want to change that. We want to give players a game that will bring them a lot of fun, but most importantly allow the players to earn at a satisfying level, while playing it. Could there be a better recipe for success?
Marcin, graphic designer with 20 years of experience. From 2002 to 2014 he owned a large advertising agency. Since 2015 he has been involved in the cryptocurrency market. He cooperated with many cryptocurrency projects, taking care of full graphic design of the projects. Investor, present on the investment market for 6 years. Economist and computer graphic designer by education.
Marcin Dudek contact details: